---
There's always something going on
What's happening in August
August is almost upon us so what's going on at the club?
Well, we've got our regular events which begin with Table Tennis on Monday 1st. For those who do not know our Table Tennis sessions start at 7 pm each Monday evening. It doesn't matter if you're a complete novice or an Olympic standard player, everyone gets to play. It's one for everyone. Sessions cost £2 per person.
On Wednesday 3rd we're presenting the first of our fortnightly Open Mic Nights. Talented local musicians come along to entertain us under the direction of our friend, George Nixs. The music starts at 8 pm and it's free!
We've got something really special for music lovers on Saturday 6th, The Jukes make a return to the club to play their mix of Blues and Funk. You won't want to miss their show. The music starts around 8:30 pm.  
On Sunday 7th we open as we do every Sunday for Lunchtime drinks between 12:30 - 3:30 pm.
Tuesday 9th is the date for our Monthly Quiz Night. Come along with your own team or join one of our regular ones to share your general knowledge prowess. Teams of six or less, please.
On Wednesday 10th at around 7:30 pm you can watch and listen to The Tavy Tars while they run through their extensive repertoire of sea shanties and traditional songs.
In our Car park on Thursday 11th, members of the Bere Alston Gardening Club will be accepting show entries from the village for the Annual Flower and Produce Show between 7 - 9 pm.
Come along on Wednesday 17th for our second helping of Open Mic Night. This free event starts at 8 pm.

I don't think I've mentioned Friday evenings yet. Well, every Friday evening we get together to discuss the events of the week have a drink and listen to a bit of background music. It's a great time to unwind and have a bit of a laugh! 
The Tavy Tars return on Wednesday 24th and 31st for more sea shanty fun from around 7:30 pm. Come along and sing along with them.
Our BIG NEWS in August is we're celebrating National Hamburger Day on 26th.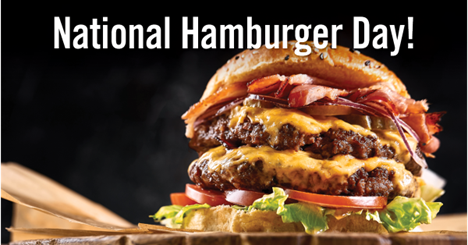 It's two events in one really because we're hosting a Family Disco on the same evening. It's the Bank Holiday weekend and the Saturday before the youngsters go back to school so why not bring them along for one last summer special evening out and let them dance away to the latest tunes with DJ Banny.
We'll be selling all kinds of freshly cooked hamburgers and veggie burgers from our car park barbecue. To find out more about this event please visit our club website and pre-book your food.  
Questions?
You can find out more details of all these and future planned events by visiting our Events Diary. 
Did I mention that our Snooker Table, Pool Table, Skittles Alley and dartboard are all available to members and their guests whenever we're open?
---